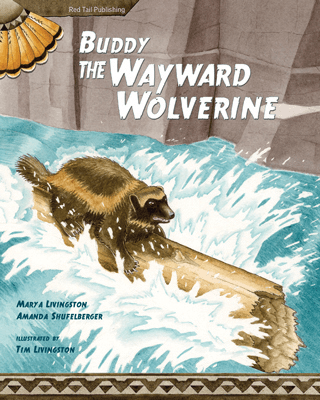 Buddy the Wayward Wolverine
by Mary A Livingston, Amanda Shuffelberger, Tim Livingston
Buddy, California's first documented wolverine since the 1920s, is from the Sawtooth Mountains of Idaho. Buddy, the Wayward Wolverine is a fantastical tale of Buddy's imagined journey from Idaho to California.
Written by author Mary A Livingston with Buddy expert and wildlife biologist, Amanda Shufelberger. This humorous tale is illustrated by the Forester Artist, Tim Livingston.
Includes Critter Chit-Chatter TM educational back matter.
Paperback ISBN-13: 978-0-9847756-6-8

Hardcover ISBN-13: 978-0-9847756-5-1

Pages: 32

Words: 683

Age: Birth to Twelve years

Lexile Reading Level 410L - 600L

Grade Reading Level: Kindergarten to Fourth

Educational content: 386 words

Authors: Mary A Livingston, Amanda Shufelberger

Illustrator: Tim Livingston